celticheavens
Oh wow, 3 months just flew by like that. -.-;; I barely feel rested mein gott. Doesn't help that my first presentation is in a week and assignments are going to start piling up... /nervous gulps. So much for being more creative during the hols huh? In my defence, I didn't bring my tablet to China and honestly, I don't think the environment there nurtures any potential budding creative sparks at all. To make up for not touching my tablet in ages (I'm not even going to think of when was the last time I actually wrote
anything
), here're a couple of doodles I rushed in the past couple of weeks~
Olympics fever~
Warning: Long rant!
I nearly forgot the Olympics was this month (I did however, remember it was taking place this year haha), but as usual, I didn't really bother much with it because 1) swimming is most fun when you are competing, not watching 2) they don't have karate 3) taekwando was surprisingly boring 4) equestrian made me wanna fly back to see my horse and go riding again. One event I was looking forward to however, was artistics gymnastics. I've always admired the strength, dexterity and elegance of the gymnasts as they constantly pushed the limits of the human body. My enthusiasm spiked in 2008 when I first saw Kohei Uchimura, a Japanese male gymnast with such elegance and precision, he makes even rings and pommel look effortless. I'd go on and ramble about how his determination and calm is an inspiration to us all but meh, let's leave that for when the interested speak to me in person yea? Anyway, the drawing is
not
of Kohei, but of another gymnast, Philipp Boy of Germany. I first noticed him in the world championships a couple of years back for his ambitious moves, infectious enthusiasm and lovely sportsmanship. 2011 WC was a particularly deterministic moment of his career as he snatched 2nd placing in all-around, breaking the otherwise G/S Japan sweep. He's sincere enough with his congratulations, humble enough to entertain the reporters, and grounded enough to continue with what he loves: gym and running cafes (he owns two! :D). I guess it was this relatability alongside his amazing skills that made me follow his journey more closely, so it was a heartbreak for me when he performed so poorly at the qualifiers. I'm just disappointed that he is unable to show the world his true talent in the sport (although congratulations to his lazy teammate, Marcel Nyugen, who snagged a Silver all-around!), and given his age, he may not even get a chance at the next Olympics DDD':. So that's why I decided to doodle him from memory instead of Kohei (who saved his reputation by breezing through all-arounds, taking his 4th straight all-around gold~), because he deserves so much more respect for his talent D:.
/ends rant
Wanted to try a more dynamic pose than my usual face-forward poses xD. Sketched from memory, coloured at the last minute to see if I can flub a background. I'm quite sure the pommel horse is taller and wider but meh, /scraps. xD
No lengthy fangirl rave this time I swear ><. Decided to doodle while waiting for the rest of the Biz girls to send over some stuff, and ended up with a random OC who looks kinda... Hipster. ._. That was
not
my original intent I swear! I just wanted to do nice slightly messy hair, some drapey stuff, and simple clothes. Apparently when put together, my mind came up with that. -.-;; Careless colouring, uncleaned lines and a lazy background because I didn't feel like drawing anything else once I was done :P.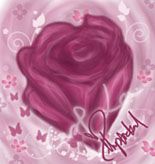 One last item before I finish up this entry~ I was randomly sketching nonsense while watching the Olympics reruns when my bro stopped and commented, "Your drawings are too cartoony." While yes, they are because I'm quite terrible at drawing still, I don't like such facts being said in my face when I'm currently drawing. So I told him I'll draw something semi-realistic for him; end result is the 'rose' you see above! :D Took me 3 minutes or so, and while it isn't true realism, it was enough to shut my bro up. -.-;;; Randomly 'zomg-cool brushes all over!!!!' it, and it ended up like this. :D And nope, not even gonna try salvage it. /lazy
I wish I drew more during the holidays but argh, it's uni year 3 so I can't afford to waste time on the more frivolous. /sigh Until whenever! D':
PLEASE DO NOT USE ANY OF MY GRAPHICS/ART WITHOUT OBTAINING PROPER PERMISSION FROM ME.
~Mystickal

Please upload button to your own server if possible. I suggest Photobucket. Click here to view and SAVE the image.